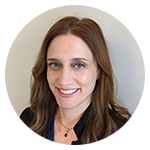 Beth Jaworski, Ph.D.
Social & Behavioral Sciences Administrator
Email:
beth.jaworski@nih.gov
Phone: 301-496-0979
Brief Biography
Dr. Beth Jaworski joined the Office of Behavioral and Social Sciences Research (OBSSR) at the National Institutes of Health as a Social and Behavioral Sciences Administrator in September 2021. In this role, she supports the OBSSR mission to enhance the impact of health-related behavioral and social sciences research, coordinate and integrate these sciences within the larger NIH research enterprise, and communicate health-related behavioral and social sciences research findings. Beth earned her Ph.D. in social psychology from the University of California, Santa Cruz and her bachelor's degree in psychology from the University of Wisconsin, Madison. Prior to joining OBSSR, she served as the mobile user experience (UX) lead at the VA's National Center for PTSD, Dissemination and Training Division, where she split her time between creating and researching public mental health apps for PTSD and related conditions. Dr. Jaworski's research interests are focused on how the social and behavioral sciences can be leveraged to design and implement impactful and engaging digital health interventions. She is especially interested in mixed methods approaches that center health equity and inclusion, take social context into account, and explore innovative ways to deliver and integrate health information, across a range of settings.