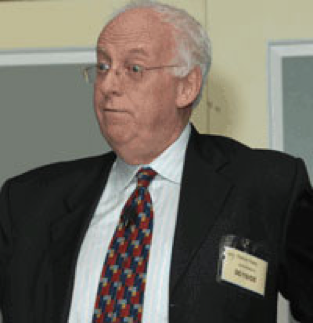 Distinguished Lecturer: John B. McKinlay, Ph.D.
Vice President and Director
New England Research Institutes, Inc.
Presentation: Looking for Causes in All the Wrong Places: Upstream Social Determinants of Downstream Health Disparities
Biography
The NIH Office of Behavioral and Social Sciences Research awarded the Third Matilda White Riley Lectureship to John. B. McKinlay, Ph.D. Dr. McKinlay is the Senior Vice President and Chief Scientist of the New England Research Institutes (Watertown, Massachusetts). He is an internationally prominent epidemiologist with interests and experience in public health, epidemiologic field studies, clinical decision-making and health policy. He was for several decades a distinguished academic and administrator (at Boston University), holding simultaneous Professorships in Medicine, Biostatistics and Epidemiology and Sociology and directing BU's Center for Health and Advanced Policy Studies and its Gerontology Institute. He has been a Member of the Division of Medicine at the Massachusetts General Hospital (Harvard Medical School) for 25 years.
Dr. McKinlay is the recipient of many awards and honors including an NIH MERIT Award, an American Psychological Association award for "Distinguished and Pioneering Contributions to Research on Women's Health," and the American Sociological Association's Leo G. Reeder Award for "Distinguished Contributions to Medical Sociology." He is the author, co-author, or editor of over 250 professional papers and 17 books. Several of his papers have been designated "citation classics".
Dr. McKinlay's career-lifelong commitment to social epidemiology began in his native New Zealand with studies of heart disease among native Maoris and the health consequences of migration by Polynesian Tokelau Islanders. Since 1973, Dr. McKinlay has collaborated on studies of menopause -- culminating in the highly regarded Massachusetts Women's Health Study. His own Massachusetts Male Aging Study (a longitudinal investigation of over 1700 men) continues to make pioneering contributions in such fields as endocrinology, urology, cardiovascular disease, geriatrics and behavioral medicine. Dr. McKinlay is presently leading NIH funded research on the epidemiology of erectile dysfunction (impotence). With support from the NIH he is establishing a population epidemiologic laboratory in the Boston inner-city area involving over 5000 individuals randomly sampled and followed over time. This study is designed to look at a range of urologic conditions as well as diabetes and the metabolic syndrome in men and women of diverse race and ethnicity. With colleagues at the Boston Medical Center, he is conducting the first large epidemiological study (n=1100) of osteoporosis in a racial and ethnically diverse population of aging men. He is also conducting a study (employing complex factorial experimental designs) on nonmedical influences and how they influence clinical decision-making in both the US and the UK. This last area is producing highly relevant results for the rapidly emerging managed care environment in the U.S.