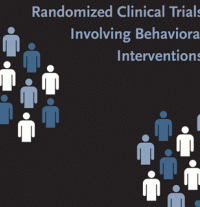 The 22nd annual Summer Institute on Randomized Behavioral Clinical Trials will be held from July 14 – 23, 2022 at the Bolger Hotel and Conference Center in Potomac, Maryland. The Institute is sponsored by the NIH Office of Behavioral and Social Sciences Research (OBSSR) and the National Heart, Lung, and Blood Institute (NHLBI).
Applications are due by February 22, 2022.
Objective
The Summer Institute provides an intermediate/advanced course in planning, designing, and conducting high-impact randomized controlled trials of health-related behavioral interventions. It emphasizes programmatic research and prepares fellows to lead or collaborate on rigorous, high-impact behavioral trials and on systematic efforts to develop and improve health-related behavioral interventions. The Institute's long-term goal is to build an outstanding scientific workforce that is able to plan and conduct the kinds of clinical trials that can change practice guidelines, health care policies, and third-party coverage for health-related behavioral interventions, and that can help to increase the role of evidence-based behavioral interventions in clinical and preventive services.
By the end of this course, participants will be able to:
Evaluate the evidentiary requirements of health care gatekeepers and the needs of stakeholders in health-related behavioral interventions.
Formulate long-term goals for high-impact health-related behavioral intervention research programs.
Use the best-fitting translational research models and intervention optimization frameworks to plan and conduct intervention research programs.
Incorporate basic behavioral and social science findings and advanced methodologies in this research.
Understand the role of interdisciplinary team science in high-impact behavioral intervention research.
Produce a plan to disseminate the knowledge gained in this course.
Agenda
The course follows a sequence of topics that start with formulating research goals and plans and proceed through multiple phases of intervention research.
| Day | Date | Theme |
| --- | --- | --- |
| 0 | 07/13/22 | Arrival Day: Check-In at Bolger Center |
| 1 | 07/14/22 | Letting Health Care Gatekeepers and Stakeholders Guide Your Research |
| 2 | 07/15/22 | Determining Which Behavioral Factors and Clinical Outcomes to Target |
| 3 | 07/16/22 | Pursuing Goal-Directed, Programmatic Research on Behavioral Interventions |
| 4 | 07/17/22 | Preclinical Research and Phase I Studies of Behavioral Interventions |
| 5 | 07/18/22 | Phase II Proof-of-Concept and Pilot Studies |
| 6 | 07/19/22 | Phase II Efficacy Trials—Part 1 |
| 7 | 07/20/22 | Phase II Efficacy Trials—Part 2 |
| 8 | 07/21/22 | Phase III Efficacy Trials |
| 9 | 07/22/22 | Phase IV Effectiveness Trials and Dissemination and Implementation Research |
| 10 | 07/23/22 | Closing session (1/2 day) and departure |
Faculty
The faculty are leading authorities in their fields with extensive clinical trial experience. They represent a range of specializations, including psychology, behavioral medicine, psychosomatic medicine, gerontology, oncology, cardiovascular diseases, mental health, statistics, RCT methodology, and related areas.
Members of the Summer Institute faculty include:
Walter Ambrosius, Ph.D.
Susan Brown, Ph.D.
Linda Collins, Ph.D.
Kenneth Freedland, Ph.D.
Peter Kaufmann, Ph.D.
Michaela Kiernan, Ph.D.
Tricia Leahey, Ph.D.
Jun Ma, M.D., Ph.D.
Evan Mayo-Wilson, D.Phil.
Mary McDermott, M.D.
Lynda Powell, Ph.D.
DeJuran Richardson, Ph.D.
Bonnie Spring, Ph.D.
Joseph Schwartz, Ph.D.
Corrine Voils, Ph.D.
The program will also feature guest speakers, including experts on behavioral clinical trial methodology and related topics from NIH, other governmental agencies, and leading research organizations.
Eligibility Requirements
The course is designed primarily for early- to mid-career scientists who are pursuing a career in clinical research. It is open to all interested researchers who received their doctoral degree (Ph.D., M.D., Dr.P.H., D.O., etc.) in a relevant field after 2012.
Applicants should have had at least 2 years of relevant research experience.
The ideal candidate will be actively pursuing a research career in health-related behavioral RCTs.
Due to limited availability of space, preference will be given to citizens or non-citizen nationals of the United States, or those lawfully admitted to the United States for permanent residence (i.e., possess a currently valid Alien Registration Receipt Card I-551, or other legal verification of such status).
Applicants should be willing and able to pay expenses associated with traveling to and attending the entire training institute, if accepted.
Beyond these eligibility criteria, we are seeking individuals who have demonstrated research potential and whose careers are likely to benefit from this training.
Women, minorities, and individuals with disabilities are encouraged to apply. Preference is given to individuals who are not employees of NIH.
Reasonable Accommodations for Disabilities: If you are accepted to attend the Summer Institute and require reasonable accommodations for disabilities to participate in this activity, please contact Diane Smith at diane@espinc-usa.com immediately upon acceptance.
The 2022 Summer Institute will be held in person at the Bolger Center. All participants (fellows, faculty, and staff) will be required to provide proof of COVID-19 vaccination in advance of the program.
Costs and Stipends
There is no course registration fee for the Summer Institute. However, Fellows will be responsible for the cost of travel to and from the Summer Institute site and room and board. Limited support may be available to offset a portion of these costs. Family members may accompany participants at their own expense.
Applicants who wish to apply for the very limited number of scholarships to fund the majority of the costs to attend the Institute must submit an additional letter demonstrating financial need, and endorsed by their institutional leadership (Department Chair, Dean, etc.). This letter should not exceed one page.
Application Procedures & Form
Application Requirements
Updated Curriculum Vitae.
Statement from the applicant regarding how the course will promote their career objectives.
Letter of recommendation.
Application letter for scholarship (if relevant).
Accepted applicants are required and expected to attend all days of the institute, fully participate in group activities, and complete all course evaluations.
Although some Summer Institute Fellows have been awarded or have applied for NIH Career awards, this is neither a requirement nor a criterion for acceptance into the Summer Institute. Because admission to the Summer Institute is highly competitive, applicants for NIH Career awards should not include participation in the Summer Institute as a component of their proposed training program.
Application website link:
https://obssr.applicantpro.com/jobs/2027920.html
Applications for the 2022 Summer Institute are due by February 22, 2022.
Please address questions about the Summer Institute to Kenneth Freedland, Ph.D., Program Director, at freedlak@wustl.edu.